$93,000 OTF Grant Gives Community New Truck and Trailer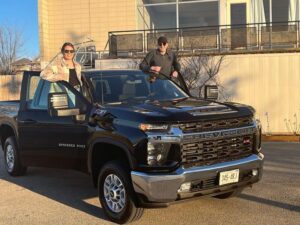 Hamilton, ON (April 23, 2022) – Leander Boat Club received a $93,000 Resilient
Communities Fund from the Ontario Trillium Foundation to support the purchase of a new truck
and trailer to transport equipment to regattas. The truck and trailer will be used for athletes of all
experience levels for many years to come.
Like many sports and recreation facilities globally, Leander was forced to close on
multiple occasions in an effort to stop the spread of COVID-19. With a decrease in membership
size during this time, we did not have sufficient funds to continue maintaining and repairing our
equipment as well as save for important capital purchases necessary for club growth.
Leander has recently welcomed a large group of high school athletes from the Hamilton
area, many of whom are new to the sport of rowing. The purchase of the truck and trailer will
allow us to safely transport enough equipment to accommodate all of these new athletes at
upcoming regattas. The new vehicles will also be used extensively throughout the summer and
fall months by the many other rowing programs offered at Leander. "Currently we have multiple
junior rowers with sights on making the national team in the near future. The new truck and
trailer allow us to get those athletes to training regattas to help them reach their goals", says
Leander Assistant Coach Cayley Firth.
"I am very grateful the Ontario Trillium Foundation has made this contribution to support
Leander Boat Club. We have a devoted group of volunteers and members who commit hours of
their time to support and run our programs. The purchase of this truck will continue to help
athletes of all ages to achieve their goals", said Leander President John Butler.
About Leander Boat Club:
Leander Boat Club is committed to making programs accessible for the Hamilton and
surrounding communities. We offer programs to high schools, competitive programs for both
youth and adults, as well as introductory sessions for individuals interested in trying a new sport.
For more information about our programs please visit www.leanderboatclubofhamilton.com.
About the Ontario Trillium Foundation:
The Ontario Trillium Foundation (OTF) is an agency of the Government of Ontario, and one of
Canada's leading granting foundations. Last year, nearly $112M was invested into 1,384
community projects and partnerships to build healthy and vibrant communities to strengthen the
impact of Ontario's non-profit sector. In 2020/21, OTF supported Ontario's economic recovery
by helping non-profit organizations rebuild and recover from the impacts of COVID-19. Visit
otf.ca to learn more.
Organization Contact for Media Inquiries:
Andrea Jansen, Club Captain
leander.captain@gmail.com
Leander Boat Club | (905) 527-7377